As arch-patriots, Jack Hetherington and Christine Harper have been performing as Captain & Mrs. Canada, indulging their Canadian patriotism and basically trooping the colours, not only on Canada Day but throughout the year as well in parades and wherever else people gather in celebration at various civic and community functions across our Nation.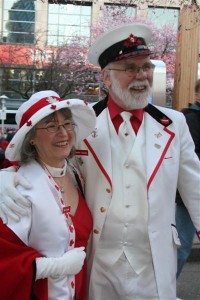 From humble beginnings seven years ago on their sailboat at the Union Steamship Marina on Bowen Island they have grown their persona, having appeared not only across the country but also abroad, displaying their Canadian patriotism at Canada House in London, at Buckingham Palace and in Trafalgar Square.
Needless to say the 2010 Vancouver Winter Olympics  was a tremendous venue for the patriotic couple, attracting crowds, countless photos with the public, press and television interviews going, literally, around the world. "It was so heart warming," said the Captain. "During one photo session at the Olympic Cauldron, we heard a voice from the gathering crowd ask, in reference to Mrs. Canada: is that the Queen?"
"It is all so gratifying to be able to celebrate and express our overwhelming pride in our beloved nation."  Now you too can have your event experience the Canadian pride only Captain and Mrs. Canada can provide. Just e-mail the proud Canadian ambassadors at the contact provided on this website. And for just the cost of a smile they will be proud to make an appearance at that event, adding a happy touch of Canadian colour and patriotic panache .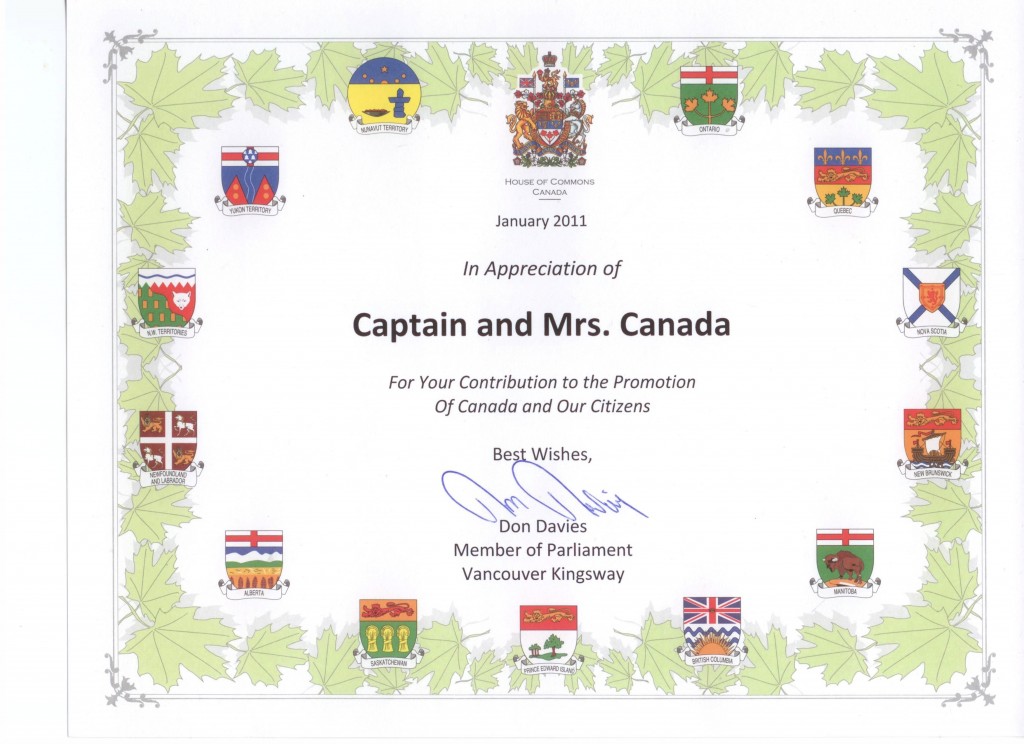 Captain and Mrs. Canada on YouTube:
http://www.youtube.com/watch?v=wXrPUmWh9wM
READ THE CAPTAIN'S BLOG