Eric Hatch, Proud Canadian Patriot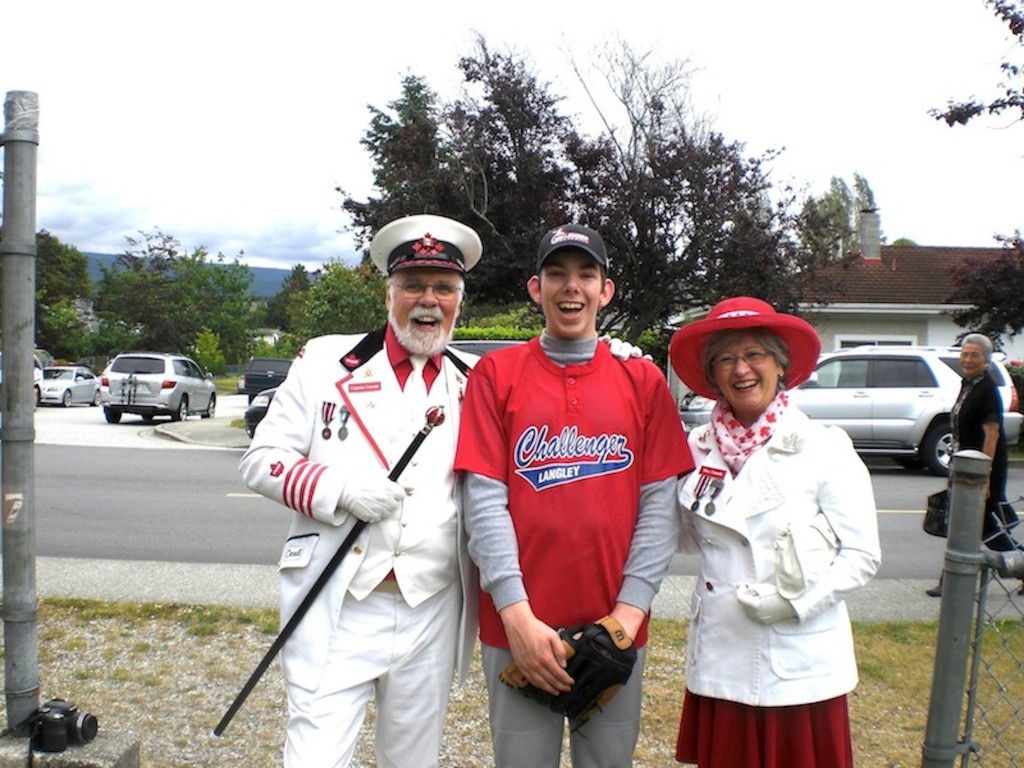 There are magic moments one experiences from time to time and memories that will last a lifetime through the people one meets. Such an experience was our meeting Eric Hatch, a passionate young Canadian patriot and participant in the Challenger Little League Baseball Program in Langley, British Columbia.
 Challenger Baseball is not only a division of Baseball B.C. but has also been adopted by Baseball Canada. There are now more than 30,000 participants world-wide.  "Challenger Baseball provides kids with disabilities the opportunity to do something that able-bodied kids do," said Ian McLean, National Coordinator of Challenger Baseball.
 Challenger baseball provides an opportunity for  young people with cognitive or physical disabilities to enjoy the full benefits of participation at a level structured to their abilities.
 Each year Challenger Baseball holds a Provincial Jamboree. The 2014 British Columbia Jamboree will be held on Saturday, June 21 at the Mission Rotary Sports Park, 8020 Oyama St., Mission, B.C.
 Our meeting Eric Hatch was more than meeting a young baseball player, it was meeting a young Canadian with a passion for anything to do with Canada, as chronicled in his cherished Canada Album. "If it's Canada, he's cheering for it," said his father, Drew, a former officer in the Royal Canadian Air Force.
 We are proud to have met this young Canadian patriot. Eric Hatch, we salute you.
 — Captain & Mrs. Canada
~~~~~~~~~~~~~~~~~~~~~~~~~~~~~~~~~~~~~~~~~~~~~~~~~~~~~~~~~~~~~~~~~~~~~~~~~~
Christine Harper awarded the 2012 SFU Staff Achievement Award in Humanitarism
Christine Harper has been awarded the 2012 SFU Staff Achievement Awards in Humanitarianism.
Christine is a true superhero, with a dual identity! She is Mrs. Canada, one of Canada's proudest ambassadors and archpartriots. With her partner, Captain Canada, the duo has been supporting community gatherings, special events, and fundraisers. They can be seen in their regal red and white outfits at events across Canada, and sometimes internationally. They support community spirit, children's events, and fundraisers for causes such as the Children's Hospital and Royal Canadian Legion.  SFU Economics is proud to have Mrs. Canada in our office.
~~~~~~~~~~~~~~~~~~~~~~~~~~~~~~~~~~~~~~~~~~~~~~~~~~~~~~~~~~~~
VANCOUVER COUPLE PARADE THEIR PATRIOTIC PRIDE
Jack Hetherington and Christine Harper give Quatchi and Co. a run for their money: 'We are just arch-patriots'
BY REBECCA LINDELL, VANCOUVER SUN    FEBRUARY 20, 2010
Christine Harper and Jack Hetherington love Canada, the 2010 Games, and tourists who have photos taken with them. Photograph by: Steve Bosch, PNG, Vancouver Sun
Move over, Miga: Captain and Mrs. Canada are in town acting as unofficial representatives for the country during the Olympics.
Vancouver couple Jack Hetherington and Christine Harper have been stealing some limelight from Vanoc's official trio of mascots, Miga, Quatchi and Sumi, at popular Olympic sites thanks to their super-patriotic Canadian uniforms. Hetherington, as Captain Canada, sports a white naval officer's suit accessorized with a red shirt and a variety of Canadian flags and pins. Harper wears a flag-inspired skirt and shirt. A wide-brimmed white hat decorated with Canadian pins tops off her outfit.
Photo-happy tourists have been all over the dashing duo, stopping them in the street to take a picture. The patriots are happy to oblige, posing and smiling for each one.
The couple has been dressing up for six years and plan to be out on the street as much as possible during the Olympics, an event that allows them to indulge their patriotism.
"We love to walk around and show the flag. We love our country dearly and Canadians are so unique and so much fun," Hetherington said. "We are just arch-patriots. … Canada is just such a wonderful place."
The pair also hands out a pamphlet outlining the history of the Canadian flag. Captain Canada has a special salute for Canadian athletes, especially gold medal winner Alexandre Bilodeau. "I would give him one helluva snappy salute and tell him you are a true Canadian, an inspiration, and you make us so happy," Hetherington said.
The idea of Captain and Mrs. Canada was born on Canada Day six years ago, but the outfits weren't as classy as they are today. Instead of a naval officer's uniform and a prim and proper dress, the couple donned Canada T-shirts, white shorts, Canada Day socks, flip-flops and Cat-in-the-Hat hats. "We've always said Mr. Dressup is our hero," Harper said.
Since starting the gig, they have paraded around fairs, Canada Day celebrations and their marina at Bowen Island. They've even visited Buckingham Palace where they were greeted by crowds of onlookers. "It was almost embarrassing in a sense," Hetherington said. "They wanted more pictures with us than with the Coldstream Guards."
Hetherington and Harper have another pair of alter egos that appear during the Canadian Football League season. They dress up as B.C. Lions super fans, switching the red in their Canada outfits for Lions' orange and black.
The pair aren't the only connection to the CFL at the Olympics: Jesse Lumsden, an Edmonton Eskimos running back in the 2009 season, is racing in the Canadian bobsleigh team. "I hope he doesn't fall off the back and get hurt because Lumsden is injury prone," joked Hetherington. "I think that's wonderful, more power to him."
Harper's knack for decorating extends into her everyday life. She stages homes for a living.
"In this instance, I am setting us on stage instead of some-one's home on stage," she said. Hetherington has a lumber company called Evergreen Empire Mills.
rlindell@vancouversun.com © Copyright (c) The Vancouver Sun
___________________________________________________
Captain and Mrs. Canada, Vancouver's Most Patriotic Pair, Celebrated Canada Day 2010 At the Union Steamship Marina, On Our Beautiful Bowen Island!
by Mikhayla Tisdale
Jack Hetherington and Christine Harper dressed their sailboat "Fringe Benefit" in Canadian flags and put on their most sophisticated Canada Day attire for their 7thThey happily welcomed boaters and guests to the Island, with a cheerful "Happy Canada Day!" for all of the passers by.They were asked to appear in Ottawa for Canada Day, though Jack said, "For us, Canada Day is here [on Bowen Island]".The Union Steamship is Jack and Christine's favorite Marina, and the U.S.S.C. is very privileged to have them as permanent year-round tenants. year as Captain and Mrs. Canada.
Captain and Mrs. Canada have traveled far and wide to represent and promote Canada.They have gone as far as England to Buckingham Palace, the official London residence of her majesty the Queen.They appeared in Trafalgar Square, and also in Vancouver during the 2010 Olympics.For Jack and Christine, celebrating Canadian pride is a year-round job!They are also extremely devoted to the B.C. Lions.When the idea for Captain and Mrs. Canada first began, Jack and Christine improvised their outfits, starting with red and white t-shirts and shorts, and very appropriate Cat-in-the-Hat hats!As you can see, they have upgraded their style, Jack wearing his actual classy Grade 12 Grad jacket!
"Canada's proud Ambassadors", Jack and Christine, are two true patriots who sincerely love our country, and say the reason they adore spreading Canadian cheer is "because we love to make people happy.The ultimate reward is a smile.You can't put a price tag on a smile!"
Thank you Captain and Mrs. Canada for never letting us forget how glorious and free our land truly is!Oh Canada, we stand on guard for thee!
photo by: Maria Steernberg, Sea Snaps
READ THE CAPTAIN'S BLOG

___________________________________________________